The surgery went well and Sebastian is home early.  He is doing OK so far.
They were going to keep him in the hospital for 2-3 days, but they sent him home less than 24 hours later because he was so miserable.  They think he will recover better at home.  I also get the feeling he was violent…which to me is great news, because he must have been feeling decent enough to put up a fight!!  Plus angry Sebastian = my Sebastian.  If the girl said "oh he's doing great, he's so mellow" I would have been terrified.
They also said he wasn't eating, but he wolfed down a bowl of food when he got home.  Clearly coming home made him feel better.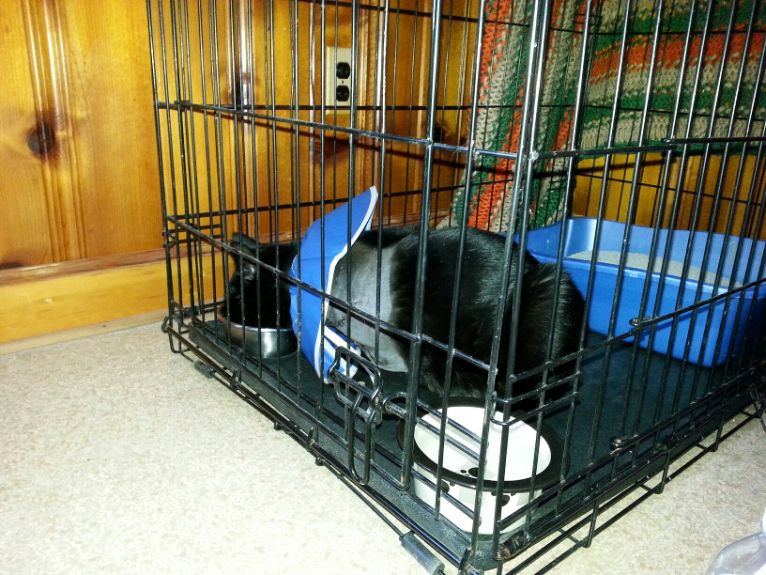 Now he's resting in the dog crate with the occasional grumble and angry chatter.  He grumbles, I tell him he's a good boy, and he meows in agreement (hopefully). We'll see where his mood is tomorrow.  Hopefully he is not in a lot of pain. The doctor doesn't want him moving about just yet, so we'll keep him in the crate for a couple days.  It seems like he just wants some peace and quiet.  And food, of course.
For any future tripawd kitty moms and dads, here's a little more detail.  The place we took him was very nice and let us bring in a bed and t-shirt from home with everyone's smells on it (per Jill's mom).  I'm not sure it made a difference, but it was worth a try.  We also brought in his own food because he has skin allergies.  This animal hospital also has 24 hour care and pet parents can call ANY time…that's super important.
That's pretty much it.  Now we just have to wait until next week for the pathology report.  Thanks everyone for your positive thoughts and prayers.