Sebastian's progress has been a little up and down, but it's been more positive than negative.
Over the weekend he was definitely in pain, though we didn't immediately realize that was the issue and nearly panicked.  On Sunday he refused to eat or get out of bed.  Up until then he had no problem taking his antibiotics with his food (made little pill meatballs), but that day I had to force them down his throat.  When either of us approached him he wouldn't acknowledge us at all – eyes closed, staying in bed, no noise – when usually he is much more alert and chatty.  And whenever I pet him, he got mad.
I was planning to call the doctor Monday morning, but there was no need.  He got right up and demanded breakfast.  Loudly.  He ate a whole can of wet food but refused the dry food.  I guess he's too good for it now.  He was also in a good mood all day.  Whew!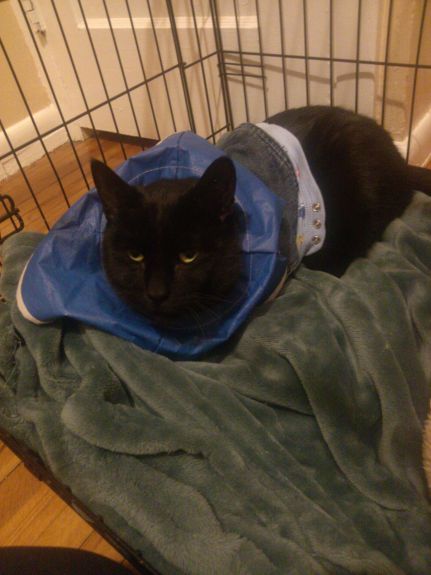 Then on Tuesday he refused to eat much again, but was otherwise fine.  He was very clearly hungry though, so it was a little confusing.  Eventually I got him to eat food out of my hand but he wouldn't eat out of his dish.  My best guess is he is in some way bothered by the e-collar when he is eating.  Or he's a momma's boy.  Who knows!
Today he is in an even better mood.  He wants out of the crate bad.  Soon, Sebastian, soon!!  As much as I hate to see him locked up, it is forcing him to get some rest.  You can tell he needs it too.  After a little while of being up and moving around, you can just see him getting tired.
More good news – his incision looks AMAZING and his fur is growing back!!